My new computer: A chinese tablet
@ 2012-01-13 by João Paulo Pizani Flor
Yeah - I just bought a chinese tablet (a.k.a "chinapad") running Android. Specifically, it is sold by DealExtreme, has a 7-inch screen and runs Android 2.3.5 (Gingerbread) - with an Android 4.0 ROM already being developed by the manufacturer. And WHY did I buy it? Recently I have been a bit frustrated with my good old Atom netbook, since it has lost its battery life completely and accumulates several small glitches. It has become - put simply - an expensive desktop from the beginning of the past decade :P
So, thinking about what to buy in order to mitigate this frustration, I seriously considered a tablet. Of course tablets are "trendy" nowadays - I know - but I sincerely think that a tablet can fulfill most of my "use cases" for a computer, besides being very cheap and much more portable.
I wanted a tablet that allowed me to do ALMOST everything I do with a PC, except for the most creative/productive tasks. These "productive" use cases are, mostly:
Programming (C++/Python/Haskell :D)
Writing stuff in LaTeX (papers, presentations, letters, etc.)
Posting on this blog
These specific tasks would still be accomplished with the help of my old netbook/desktop. The rest is taken care of by the chinapad:
Listening to music / Watching movies, TV shows and YouTube
Reading
Browsing the interwebs
Social networks and chat stuff
Playing some 2D games and some light 3D games
Some useful tasks as checking maps, controlling my finances, calendar, scanning documents, etc.
With a usage scenario such as this in mind, I decided I needed a powerful tablet - but NOT SO MUCH. It needed to be better than my current netbook (almost NOTHING can be worse), but not necessarily running at the speed of light… So I did a lot of research in bizarre east-asian forums and blogs until I decided I would buy THIS ONE: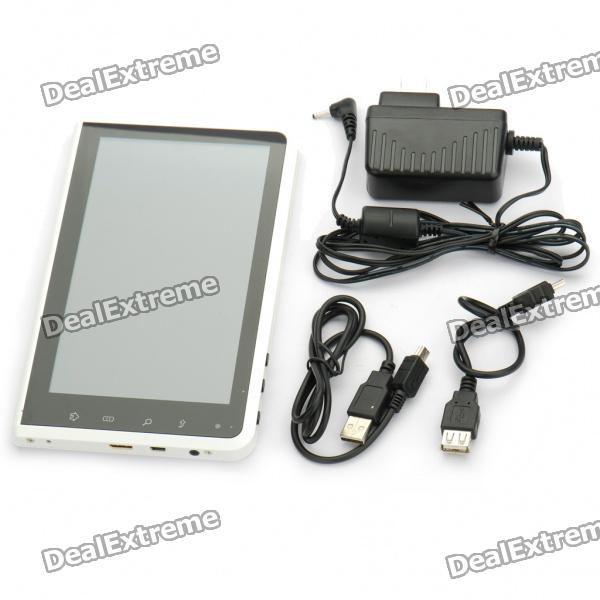 I chose the Rena3 for two fundamental reasons:
Very cost-efficient (sells for US$165,99 on DealExtreme)

Has an active developer community and is easy to customize
Here are Rena3's detailed specs:
PRICE: US$165,99 on DealExtreme
Screen: 5-point capacitive multi-touch, 7 inches with 800x480 resolution
CPU: Renesas EV2 - Dual core ARM Cortex A9 @ 1GHz each
GPU: PowerVX SGX530
RAM: 512MB DDR2
Internal storage: 4GB NAND Flash
Storage expansion: microSD(HC) slot, up to 32GB @ 10MB/s
3200mAh battery, lasting for aprox. 8h of "moderate" usage
Wi-fi 802.11 b/g/n and Bluetooth 2.1
Front-facing 2MP camera
Slots and ports:

mini-HDMI out
1 mini-USB 2.0 Host (to use with pendrives, 3g modems, keyboards, etc.)
1 mini-ISB 2.0 OTG (to connect the tablet to a PC)
microSD(HC) slot
3.5mm headphone jack
I will plug in a fast 32GB microSD card, so that I can leave a lot of media files in the tablet itself (my entire music collection and a lot of videos). I plan to listen to music and podcasts with it, as well as watch movies and TV shows using a good stereo bluetooth headset. Also, this tablet will be my e-book reader. HDMI-out is a plus, and will be mostly useful to watch some videos with my family and perhaps even play some SNES games on the living room TV /
There is, in fact, already a vibrant developer community around this tablet, and several good custom ROMs are available for download on its Slatedroid.com page.
As well as a lot of research over the tablet itself, I also spent a considerable amount of time searching for the best applications to suit each of my use cases for the device. After some 2 weeks all over the Android market, reddit and specialized blogs, I came up with this list:
Now I just have to wait (a lot) until my new toy reaches Brazil, with a leather case and a 32GB microSD. Wait and pray, so that nothing wrong happens during shipping… As soon as I get my hands onto it, I will post a review here with some photos and videos :)